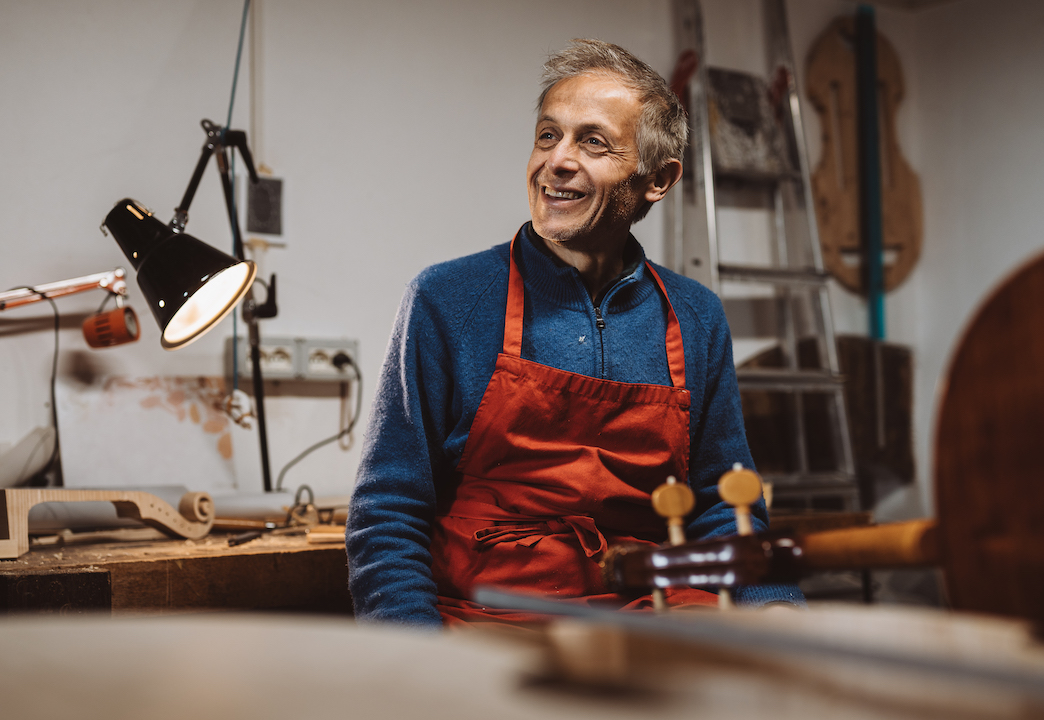 Sergio Gistri was born in Poggibonsi (Siena, Italy) in 1958. His work is devoted exclusively to the construction of bowed instruments (especially violas da gamba and violones) inspired to 16th, 17th, 18th century originals, after a passionate study (since 1993) of the originals preserved in the main public and private collections in Europe, and an intense training with M° Paolo Sorgentone in instrument restoration and building.

Handcrafted instrument building systems and methods are completely "human-sized" and environment-friendly: nothing is wasted, short supply chain is preferred and there is a close to zero ecological impact. This allows violin makers to work easily in their own homes and in small urban centres or villages.

During the Baroque period the exchanges between European areas were much more limited than in present time, so the developed building techniques and styles gave really different outcomes. Trying to understand and re-use these methods is enormously fascinating, even if it is often impossible to identify exactly all the procedures, and some remain actually enigmatic (like the ones regarding the Colichon's neck base or the signs on the Bimbi's counter-ribs ).

In his work Sergio tries to get as deeply as possible into the building method and procedures of the selected old maker, and strives to follow the same imagined steps; this means that the project consists not in "making a copy", but in walking along an old, unique path that brings eventually to that instrument.

His instruments today are played by famous musicians and important ensembles (such as Modo Antiquo, Accademia Strumentale Italiana, Venice Baroque Orchestra, Europa Galante, Accademia Bizantina, Cantar Lontano, Fretworks and others worldwide), also in many recordings. He has taken part with his works to several international meetings and exhibitions around Europe.
His creations (so far, more than 180 instruments worldwide) follow closely the construction features and procedures of the originals, but also embed the results of his own research about acoustics, aesthetics and style.

In simple words... Sergio's instruments are each time a custom project, based on a personal in depth-analysis of the original maker's building way, discussed and planned together with the musician from the beginning to the final instrument set-up, in order to get as close as possible to fit all her/his needs for playing and artistic expression.